Play has begun. There are about 42 minutes left to go in Level 9.
Tase:

9
Blindid:

300/600
Ante:

75
They opened the doors to the Amazon a few minutes ago, and hundreds of players swiftly streamed in to take their seats for today's Day 2. Looks like we'll be getting things going just a few minutes after the scheduled 1 PM start.
We have an especially large group to start the second day of play, and expect the winnowing to begin in earnest soon as they race to the final 468 and the cash.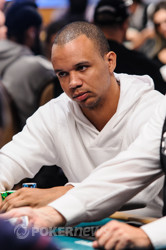 Welcome back to Day 2 of Event 59: $1,000 No-Limit Hold'em.
The first of the two Day 1s saw 1,740 players join the fray. That group played down until about 15% remained — eight one-hour levels plus 18 minutes of Level 9 — at which point Ronald Lee then bagged the most chips with 79,325. Dominik Nitsche was next highest Wednesday night with 67,800, and Phil Ivey had accumulated 50,000 to find a spot just outside the Day 1a top ten.
Thursday saw an even bigger group assemble for Day 1b, with 2,880 players spread all over the Rio in the Brasilia, Amazon, and Pavilion rooms. Following the Day 1a group's lead, they, too, played eight levels plus part of a ninth, after which 471 of them survived.
At night's end it was Alex Cordero counting out several stacks of chips to discover he'd crossed the 100,000-chip mark, ending the night with 100,475 to become our overall leader heading into today's Day 2. Meanwhile, Jake Cody had nearly reached Lee's Day 1a total to secure third position to start today with 77,600. Owen Crowe is also hovering near the lead pack, too, with 67,000.
Today the remaining 726 come together for Day 2, with the plan being to play 10 one-hour levels. The average chip stack to begin today's play is 19,091. Here's a look at the 10 players who'll begin today with the most chips with which to proceed:
| Position | Player | Chips |
| --- | --- | --- |
| 1 | Alex Cordero | 100,475 |
| 2 | Ronald Lee | 79,325 |
| 3 | Jake Cody | 77,600 |
| 4 | Warren Russell | 68,625 |
| 5 | Dominik Nitsche | 67,800 |
| 6 | Owen Crowe | 67,000 |
| 7 | David Stefanski | 65,400 |
| 8 | Ravneet Johal | 60,050 |
| 9 | Jed Friedman | 58,675 |
| 10 | Alin Pandilica | 58,500 |
As mentioned, Phil Ivey, too, returns to a nice-sized stack, good for 25th position currently. Other notables returning to above average chips include Steve Sung, Konstantin Puchkov, Cherish Andrews, Ben Yu, Leo Margets, Nam Le, Jim Collopy, Deanna Dozier, J.J. Liu, and Sam Grizzle.
Those lasting until the field is trimmed to 468 will guarantee themselves a profit in this one, with a minimum cash equaling $1,860. All are eyeing the $654,797 up top for the winner, however, the lion's share of the event's $4,158,000 prize pool.
Play begins at 1:00 PM local time. Come back here for coverage of Day 2 as we see who makes the money as well as who secures a strong position to make a final table run and a shot at the next World Series of Poker gold bracelet.
Event 59: $1,000 No-Limit Hold'em
Kuupäev 2 algas