Liv Boeree returns to a stack of 207,500 today. That's below the average at the moment (274,917 with 720 left), although other factors are converging today to put her in the right frame of mind to begin Day 4:
Liv_Boeree Liv Boeree Friday the 13th, 666 get paid... could there be anything a metal loving girl nicknamed "The Iron Maiden" could love more? #numberofthebeast July 13 2012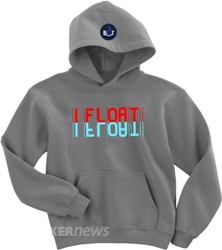 3Bet pro Jonathan Little has over $5 million in career tournament earnings and is the author of two extremely popular strategy books. Purchase any hat, hoodie, or tee today at www.3Bet.us and be automatically entered to win 1 hour of private coaching with Jonathan. (*full contest rules online*)
Top pros Doc Sands, Brian Rast, Greg "FBT" Mueller, Scott Clements, Jonathan Little, and John "The Razor" Phan exclusively wear 3Bet at the tables when they play - do you?
Look Good and Run Better with 3Bet Poker Clothing!
*this is an advertisement
Tase:

16
Blindid:

2,500/5,000
Ante:

500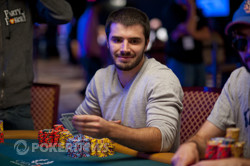 Welcome to our coverage of Day 4 of the 2012 World Series of Poker Main Event. Yesterday's play saw the return of the remaining 1,738 from a starting field of 6,598. Those players were scattered across three rooms, and yet, by the end of the night, had all combined into the Amazon Room. Today, the final 720 will once again return for five levels of intense poker action. Perched atop the highest stack in the room is Dave D'Alesandro who owns a stack of 1,100,000 in chips.
Day 4 will be quite the exciting day for these remaining players, as it will be the day that the money bubble is burst. We are a mere 53 eliminations away from each of the final 666 players being guaranteed at least $19,227 in tournament winnings. After the players make the money, they will have their sights set higher and higher on the path to the first place prize of $8,527,982.
Day 3 saw the exit of just over 1,000 players from the tournament. Many big names showed up only to hit the rail in those fives levels of play. Among those whose WSOP came to an end yesterday were Eugene Katchalov, Soi Nguyen, Marco Traniello, Ben Lamb, Chris Tryba, Barry Greenstein, Sammy Farha, Brett Richey, Phil Galfond, Shannon Shorr, Nick Schulman, and John Racener.
Several Main Event champions of previous years also saw their tournament come to an end on Day 3. Dan Harrington, Robert Varkonyi, Jerry Yang, Peter Eastgate, and reigning champion Pius Heinz all saw a Day 3 exit.
While those players were not able to survive the massive field of the Main Event, others were able to continue to grind out and push through this deep field. Some of the more notable names that will return to the felt for Day 4 include Sean Rice (1,076,000), Vanessa Selbst (814,000), Sorel Mizzi (738,000), Vivek Rajkumar (678,000), Jason Somerville (637,000), Marcel Luske (602,000), Gaelle Baumann (599,000), Shaun Deeb (598,000), Lee Childs (570,000), Antonio Esfandiari (485,000), Gavin Smith (425,000), Maria Ho (382,000), John Juanda (357,500), Athanasios Polychronopoulos (305,000), Joseph Cheong (287,000), Liv Boeree (207,500), and Daniel Negreanu (109,000).
Play will be fast approaching the money bubble, so make sure to stay tuned to PokerNews for all of the latest updates on the most prestigious poker tournament in the world!
Top Ten Chip Counts

| Place | Player | Chips |
| --- | --- | --- |
| 1 | Dave D'Alesandro | 1,100,000 |
| 2 | Sean Rice | 1,076,000 |
| 3 | Jacob Balsiger | 1,065,000 |
| 4 | Leo Wolpert | 1,003,500 |
| 5 | Ben Greenberg | 963,000 |
| 6 | A.J. Jejelowo | 928,500 |
| 7 | Daniel Rudd | 834,500 |
| 8 | Michael Ferrell | 821,000 |
| 9 | Paul Volpe | 820,000 |
| 10 | Vanessa Selbst | 814,000 |
| Table | Seat | Player | Chips |
| --- | --- | --- | --- |
| 351 | 1 | Karim Jomeen | 485000 |
| 351 | 2 | Ryan Daniel | 395500 |
| 351 | 3 | Robert Yong | 115000 |
| 351 | 4 | Joshua Chait | 214000 |
| 351 | 5 | Christopher Andler | 282000 |
| 351 | 6 | Adam Johnson | 296000 |
| 351 | 7 | Michael Dentale | 80000 |
| 351 | 8 | Lennart Winnemuller | 144500 |
| 351 | 9 | Dennis Frederick | 91500 |
| | | | |
| 352 | 1 | Michael Kamran | 65000 |
| 352 | 2 | Arthur Tanimoto | 60000 |
| 352 | 3 | Simon Lam | 164000 |
| 352 | 4 | Daniel Negreanu | 109000 |
| 352 | 5 | Michael Vo | 85000 |
| 352 | 6 | Eric Baldwin | 368000 |
| 352 | 7 | Demetrios Arvanetes | 361000 |
| 352 | 9 | Gary Dunn | 78000 |
| | | | |
| 353 | 1 | Joseph Cheong | 237000 |
| 353 | 2 | Jeremy Ausmus | 350000 |
| 353 | 3 | Stephen Cesaro | 394500 |
| 353 | 4 | Kevin Song | 359500 |
| 353 | 5 | Omar Saeed | 344500 |
| 353 | 6 | Michael Hickman | 335000 |
| 353 | 7 | Matthew Ezrol | 193500 |
| 353 | 8 | Vladimir Mefodichev | 463500 |
| 353 | 9 | Lawrence Barbetta | 182000 |
| | | | |
| 354 | 1 | Robert Buckenmayer | 155500 |
| 354 | 2 | Yik Chiu | 266000 |
| 354 | 3 | Jamie Shaevel | 309000 |
| 354 | 4 | Andrey Zaichenko | 239500 |
| 354 | 5 | Thomas Swensen | 190000 |
| 354 | 6 | Ernst Schmejkal | 589500 |
| 354 | 7 | Youcef Benzerfa | 195500 |
| 354 | 8 | Metin Antar | 246000 |
| 354 | 9 | Amritraj Singh | 470000 |
| | | | |
| 355 | 1 | Omar Zazay | 273000 |
| 355 | 2 | John Leathart | 328500 |
| 355 | 3 | Guillaume Rivet | 190000 |
| 355 | 4 | Andrew Moreno | 266000 |
| 355 | 5 | Felix Funk | 340500 |
| 355 | 6 | Steffen Retterholt | 259500 |
| 355 | 7 | Adam Latimer | 264000 |
| 355 | 8 | Daniel Quach | 56500 |
| 355 | 9 | Eric Pratt | 336000 |
| | | | |
| 357 | 1 | Freddy Deeb | 278500 |
| 357 | 2 | Amit Makhija | 326000 |
| 357 | 3 | Dan Murariu | 282500 |
| 357 | 4 | Michael Ferrell | 821000 |
| 357 | 5 | Raphael Ayani | 306500 |
| 357 | 6 | Francois Tosques | 426000 |
| 357 | 7 | Thomas Jacobson Jr | 43500 |
| 357 | 8 | Joseph Opie | 238500 |
| 357 | 9 | Erkut Yilmaz | 301500 |
| | | | |
| 358 | 1 | Philip Peters | 216500 |
| 358 | 2 | Chun Chen | 553500 |
| 358 | 3 | Thomas Blizniak | 192500 |
| 358 | 4 | Ajay Gnanasambanthan | 380000 |
| 358 | 5 | Rhys Jones | 433000 |
| 358 | 6 | Shu Zhao | 624000 |
| 358 | 7 | Fawz Bennis | 106500 |
| 358 | 8 | Randy Haddox | 579500 |
| 358 | 9 | Neil Ryder | 75000 |
| | | | |
| 359 | 1 | Alfred Firova | 121000 |
| 359 | 2 | Simon Taberham | 360000 |
| 359 | 3 | William Wellborne | 91500 |
| 359 | 4 | Fabio Luongo | 360000 |
| 359 | 5 | Jordi Martinezalonso | 146000 |
| 359 | 6 | Jan Heitmann | 310500 |
| 359 | 7 | Dominik Bosnjak | 240500 |
| 359 | 8 | David Diaz | 254000 |
| 359 | 9 | Percy Mahatan | 180500 |
| | | | |
| 360 | 1 | Fergal Nealon | 152000 |
| 360 | 2 | Iain Somers | 331500 |
| 360 | 3 | Daniel Strelitz | 289500 |
| 360 | 4 | Griffin Benger | 158000 |
| 360 | 5 | Rodrigo Trancoso | 300000 |
| 360 | 6 | Steven Gee | 213000 |
| 360 | 7 | Keith Johnson | 241000 |
| 360 | 8 | Tommy Velliama | 163000 |
| 360 | 9 | An Van Tran | 176500 |
| | | | |
| 361 | 1 | Sam Soverel | 175000 |
| 361 | 2 | David Singontiko | 129500 |
| 361 | 3 | Edgars Augstkalns | 89000 |
| 361 | 4 | Anthony Mar | 141500 |
| 361 | 5 | Daniel Dizenzo | 256500 |
| 361 | 6 | Bruno Kawauti | 124000 |
| 361 | 7 | Stewart Newman | 46500 |
| 361 | 8 | James Brodie | 202000 |
| 361 | 9 | Phil Collins | 252500 |
| | | | |
| 364 | 1 | Corey Thompson | 566500 |
| 364 | 2 | Johan Guilbert | 115500 |
| 364 | 3 | Olivier Chubilleua | 159000 |
| 364 | 4 | Jen-Yue Chiang | 52500 |
| 364 | 5 | Ali Eslami | 171500 |
| 364 | 6 | Darren Grant | 324500 |
| 364 | 7 | Kevin Williams | 95000 |
| 364 | 8 | Robert Lo | 219000 |
| 364 | 9 | David Kluchman | 436000 |
| | | | |
| 365 | 1 | Klaus Pautrot | 172000 |
| 365 | 2 | John Beauprez | 299500 |
| 365 | 3 | Leo Wolpert | 1003500 |
| 365 | 4 | Balint Barta | 214500 |
| 365 | 5 | Morten Ahrensbach | 427000 |
| 365 | 6 | Peter Schneider | 351000 |
| 365 | 7 | Mads Andersen | 512000 |
| 365 | 8 | Markus Hausberger | 108000 |
| 365 | 9 | Timothy Joseph | 50000 |
| | | | |
| 366 | 1 | Laurens Desmet | 210500 |
| 366 | 2 | Frank Marro | 440500 |
| 366 | 3 | Jason Strauss | 233500 |
| 366 | 4 | Daniel Alacahan | 90500 |
| 366 | 5 | Craig McCorkell | 638500 |
| 366 | 6 | Michael Pesek | 258000 |
| 366 | 7 | Mikhail Aleksandrov | 440000 |
| 366 | 8 | William Daymon | 40500 |
| 366 | 9 | Katie Dozier | 121000 |
| | | | |
| 367 | 1 | Gregory Brewer | 127500 |
| 367 | 2 | Bobby Law | 230000 |
| 367 | 3 | Chin Derek | 216500 |
| 367 | 4 | Paul Mctaggart | 236000 |
| 367 | 5 | Jamie Kerstetter | 63000 |
| 367 | 6 | John Corsi | 205000 |
| 367 | 7 | Anton Ionel | 245000 |
| 367 | 8 | Filip Verboven | 311000 |
| 367 | 9 | Chris Moorman | 305500 |
| | | | |
| 368 | 1 | Cameron Somsky | 179500 |
| 368 | 2 | Henry Strasser | 176000 |
| 368 | 3 | Zhi Pan | 146000 |
| 368 | 4 | Richard Jeffrey | 292000 |
| 368 | 5 | Jackie Glazier | 187000 |
| 368 | 6 | Nicholas Augustino | 720500 |
| 368 | 7 | Francis Witek | 60000 |
| 368 | 8 | Loren Klein | 421000 |
| 368 | 9 | Stephan Schreitl | 249000 |
| | | | |
| 369 | 1 | Michael Shelton | 539500 |
| 369 | 2 | Gaelle Baumann | 599000 |
| 369 | 3 | Andrew Dean | 410000 |
| 369 | 4 | Terrence Chan | 272000 |
| 369 | 5 | Jesse Posada Jr | 106000 |
| 369 | 6 | Tristan Clemencon | 577000 |
| 369 | 7 | Benjamin Saada | 213500 |
| 369 | 8 | Kunal Patel | 618000 |
| 369 | 9 | [Removed:146] | 333000 |
| | | | |
| 370 | 1 | Dag Martin Mikkelsen | 230500 |
| 370 | 2 | James Keys | 399000 |
| 370 | 3 | Frank Calo | 329000 |
| 370 | 4 | Aaron Kaiser | 169500 |
| 370 | 5 | Robert Schulz | 106500 |
| 370 | 6 | Brian Nadell | 187500 |
| 370 | 7 | Adrian Apmann | 74500 |
| 370 | 8 | Michael Nasserazad | 354500 |
| 370 | 9 | Jan Kasten | 636000 |
| | | | |
| 372 | 1 | Paul Siem | 115500 |
| 372 | 2 | Louis Crispino | 162000 |
| 372 | 3 | Eduardo Trulli | 474000 |
| 372 | 4 | Thibaud Guenegou | 232500 |
| 372 | 5 | William Choi | 243000 |
| 372 | 6 | Matt Woodward | 587000 |
| 372 | 7 | Hans Joaquim Hein | 331500 |
| 372 | 8 | Adam Lawler | 481000 |
| 372 | 9 | Kirk Specka | 99000 |
| | | | |
| 373 | 1 | Helge Stjernvang | 266500 |
| 373 | 2 | Mario Sanchez | 138500 |
| 373 | 3 | Chris Moore | 93500 |
| 373 | 4 | Juen Alban | 786500 |
| 373 | 5 | Martin May | 91500 |
| 373 | 6 | Michael Adamo | 83500 |
| 373 | 7 | Michael Esposito | 279500 |
| 373 | 8 | Dennis Booze | 80000 |
| 373 | 9 | Jeremy Allen | 650500 |
| | | | |
| 374 | 1 | Meikat Siu | 189000 |
| 374 | 2 | Desmond Portano | 154500 |
| 374 | 3 | Timothy Adams | 309500 |
| 374 | 4 | Takashi Ogura | 262000 |
| 374 | 5 | Su Zhu | 140000 |
| 374 | 6 | Kory Kilpatrick | 112500 |
| 374 | 7 | Marc Goldman | 507000 |
| 374 | 8 | Salman Behbehani | 219000 |
| 374 | 9 | Roberto Riva | 383500 |
| | | | |
| 375 | 1 | Matt Lefkowitz | 111500 |
| 375 | 2 | Gilbert Diaz | 137500 |
| 375 | 3 | Ricardo Souza | 267000 |
| 375 | 4 | Eric Cloutier | 505500 |
| 375 | 5 | Greg Merson | 365000 |
| 375 | 6 | Elisabeth Hille | 213500 |
| 375 | 7 | Bryan Zindrick | 231500 |
| 375 | 8 | Stephane Blouin | 267000 |
| 375 | 9 | Davide Catalano | 652000 |
| | | | |
| 377 | 1 | David Kaleel | 105000 |
| 377 | 2 | Derek Mymko | 25000 |
| 377 | 3 | Giuseppe Zarbo | 329000 |
| 377 | 4 | Michael Swimelar | 124000 |
| 377 | 5 | Leo Labbe | 100500 |
| 377 | 6 | William Katona | 187500 |
| 377 | 7 | Bolivar Palacios | 227000 |
| 377 | 8 | Sean Rice | 1076000 |
| 377 | 9 | Pacome Chavignon | 520000 |
| | | | |
| 378 | 1 | Timothy Odell | 552000 |
| 378 | 2 | Marc Negron | 257500 |
| 378 | 4 | Matthew Silberzweig | 520000 |
| 378 | 5 | Dan Shak | 135500 |
| 378 | 6 | Jordan Oathes | 148500 |
| 378 | 7 | Heinz Kamutzki | 224500 |
| 378 | 8 | Alin Rapoport | 310000 |
| 378 | 9 | Fabrice Humbert | 321000 |
| | | | |
| 379 | 1 | Debbie Haigh | 124500 |
| 379 | 2 | Robert Kelepouris | 356000 |
| 379 | 3 | Jae Pak | 235000 |
| 379 | 4 | Chanracy Khun | 571000 |
| 379 | 5 | Matt Marafioti | 147500 |
| 379 | 6 | Michael Slavin | 40000 |
| 379 | 7 | David Tuchman | 496000 |
| 379 | 8 | Nghi Van Tran | 648000 |
| 379 | 9 | William Klevitz | 181500 |
| | | | |
| 380 | 1 | Claus Vallo | 129500 |
| 380 | 2 | Sam Holden | 424500 |
| 380 | 3 | Jeffrey Fielder | 370500 |
| 380 | 4 | Nicco Maag | 548500 |
| 380 | 5 | Sallie Avino | 67000 |
| 380 | 6 | Marvin Rettenmaier | 129500 |
| 380 | 7 | Marvin Lee | 71500 |
| 380 | 8 | Paul Spiteri | 195500 |
| 380 | 9 | Joshua Levkov | 187500 |
| | | | |
| 382 | 1 | Dane Lomas | 462500 |
| 382 | 2 | Dani Stern | 449500 |
| 382 | 3 | Jon Van Fleet | 153000 |
| 382 | 4 | Devin Looney | 239000 |
| 382 | 5 | David Wilhoit | 124000 |
| 382 | 6 | Joel Bullock | 336000 |
| 382 | 7 | Rudolf Schwartz | 135000 |
| 382 | 8 | Anthony Thambynayagam | 261000 |
| 382 | 9 | Stephane Bisson | 172000 |
| | | | |
| 383 | 1 | Francois Safieddine | 224000 |
| 383 | 2 | Ray Babao | 145000 |
| 383 | 3 | Bryan Pimlott | 150500 |
| 383 | 4 | Richard Whitebrook | 69000 |
| 383 | 5 | Kenny Hallaert | 245500 |
| 383 | 6 | Serkan Kurnaz | 236500 |
| 383 | 7 | Wayne Hoovestol | 108500 |
| 383 | 8 | Assani Fisher | 205000 |
| 383 | 9 | Romik Vartzar | 330500 |
| | | | |
| 384 | 1 | Luke Brereton | 292500 |
| 384 | 2 | Gary Hurst | 142000 |
| 384 | 3 | Fabrizio Gonzalez | 532000 |
| 384 | 4 | Paul Birman | 817500 |
| 384 | 5 | Michael Schneider | 750000 |
| 384 | 6 | Michael Wright | 480000 |
| 384 | 7 | Farhan Madhani | 293000 |
| 384 | 8 | Bahbak Oboodi | 184000 |
| 384 | 9 | Samuel Blankenship | 194500 |
| | | | |
| 385 | 1 | Stephane Benadiba | 114000 |
| 385 | 2 | AJ Jejelowo | 928500 |
| 385 | 3 | Max Ovseyevitz | 417000 |
| 385 | 5 | Lance Keating | 115500 |
| 385 | 6 | Jimmy Dowda | 237000 |
| 385 | 7 | Anthony Wise | 73000 |
| 385 | 8 | Daniel Deveau | 151500 |
| 385 | 9 | Scott Schwalich | 256500 |
| | | | |
| 387 | 1 | Manos Foudoulakis | 373500 |
| 387 | 2 | Daniel Johnson | 112000 |
| 387 | 3 | Jeffrey Schobert | 413500 |
| 387 | 4 | Tyler Hancock | 41000 |
| 387 | 5 | Ernest Smith | 72500 |
| 387 | 6 | Wayne Peterson | 494500 |
| 387 | 7 | Michael Vik | 191000 |
| 387 | 8 | Leon Piso | 216000 |
| 387 | 9 | Joshua Mancuso | 135500 |
| | | | |
| 388 | 1 | Jose Gomez | 304000 |
| 388 | 2 | Bryan Sneed | 90500 |
| 388 | 3 | Micah Smith | 172500 |
| 388 | 4 | Eric Legoff | 620000 |
| 388 | 5 | Brock Parker | 337000 |
| 388 | 6 | Jason Gigliotti | 125500 |
| 388 | 7 | Wes Gauthier | 545000 |
| 388 | 8 | Kelvin Gates | 199500 |
| 388 | 9 | James Schafer | 168000 |
| | | | |
| 389 | 1 | Joshua Evans | 366000 |
| 389 | 2 | Anthony Guetti | 103500 |
| 389 | 3 | Massimo Mosele | 113000 |
| 389 | 4 | Justin Ouimette | 231500 |
| 389 | 5 | Charles Clark | 311500 |
| 389 | 6 | Nicolau Villa Lobos | 339000 |
| 389 | 7 | Jeffrey Stewart | 265000 |
| 389 | 8 | Niall Farrell | 495000 |
| 389 | 9 | Jonathan Schoder | 197000 |
| | | | |
| 390 | 1 | Bryan Paris | 342500 |
| 390 | 2 | Brian Kim | 100500 |
| 390 | 3 | Vanessa Selbst | 814000 |
| 390 | 4 | Roberto Betbese | 104500 |
| 390 | 5 | Cobi Cobian | 63000 |
| 390 | 6 | Tuan Le | 240000 |
| 390 | 7 | Marc Karam | 650000 |
| 390 | 8 | Anthony Harb | 331000 |
| 390 | 9 | Daniel Sauva | 317000 |
| | | | |
| 392 | 1 | Charles Coultas | 507000 |
| 392 | 2 | Gwennael Grandmougin | 393000 |
| 392 | 3 | Jim Burns | 384500 |
| 392 | 4 | Steve Rosen | 300500 |
| 392 | 5 | Mike McDonald | 396000 |
| 392 | 6 | Alexander Beck | 404000 |
| 392 | 7 | Justin Shelton | 351000 |
| 392 | 8 | Erik Wigg | 317500 |
| 392 | 9 | Jacob Balsiger | 1065000 |
| | | | |
| 393 | 1 | AP Phahurat | 421000 |
| 393 | 2 | Everett Carlton | 300500 |
| 393 | 3 | David 'The Other' Williams | 310000 |
| 393 | 4 | Carl Maddy | 133000 |
| 393 | 5 | Luke Nettles | 44500 |
| 393 | 6 | Andras Koroknai | 242000 |
| 393 | 7 | Eric Brix | 255000 |
| 393 | 8 | Thomas Czyszczon | 123000 |
| 393 | 9 | Grant Hinkle | 387500 |
| | | | |
| 394 | 1 | Guido Tauriello | 95500 |
| 394 | 2 | Bobby Poe | 273500 |
| 394 | 3 | Ferit Gabriellson | 95500 |
| 394 | 4 | [Removed:205] | 429500 |
| 394 | 5 | Alejandro Anaya | 102000 |
| 394 | 6 | Philip Macdonald | 338000 |
| 394 | 7 | Orjan Skommo | 343500 |
| 394 | 8 | Kim Chee | 182000 |
| 394 | 9 | Michael Neuber | 77500 |
| | | | |
| 395 | 1 | Brian Lamanna | 187000 |
| 395 | 2 | Joel Micka | 210000 |
| 395 | 3 | Erik Cajelais | 585500 |
| 395 | 4 | John Murray | 217500 |
| 395 | 5 | David Scherzer | 94500 |
| 395 | 6 | [Removed:163] | 264500 |
| 395 | 7 | James Mitchell | 260000 |
| 395 | 8 | Yuval Bronshtein | 533500 |
| 395 | 9 | Tomas Samol | 376500 |
| | | | |
| 397 | 1 | Mikel Allende | 307000 |
| 397 | 2 | Sandeep Pulusani | 355000 |
| 397 | 3 | Ronny Kaiser | 212500 |
| 397 | 4 | Zaher Sayegh | 325000 |
| 397 | 5 | Zach Clark | 42000 |
| 397 | 6 | David Peters (CA) | 250500 |
| 397 | 7 | Robert Deppe | 255000 |
| 397 | 8 | Hye Park | 106500 |
| 397 | 9 | George Leandrou | 200000 |
| | | | |
| 398 | 1 | Dan Natarelli | 74500 |
| 398 | 2 | Jeffrey Finkelstein | 608000 |
| 398 | 3 | Ryan Young | 414000 |
| 398 | 4 | Daniel Pickard | 133000 |
| 398 | 5 | Lukas Nemec | 146500 |
| 398 | 6 | David Briegs | 169500 |
| 398 | 7 | David Corwin | 56500 |
| 398 | 8 | Robert Cecich | 94000 |
| 398 | 9 | Paul Ephremsen | 292000 |
| | | | |
| 399 | 1 | Michel Abecassis | 98000 |
| 399 | 2 | Russell Thomas | 209500 |
| 399 | 3 | Danny Wong | 344000 |
| 399 | 4 | Sachin Modi | 264500 |
| 399 | 5 | Kyle Julius | 159000 |
| 399 | 6 | Larry Powell | 161500 |
| 399 | 7 | Loi Phan | 105500 |
| 399 | 8 | Jason Somerville | 637000 |
| 399 | 9 | John Shipley | 286500 |
| | | | |
| 400 | 1 | Imad Bejjani | 343500 |
| 400 | 2 | Phung Ngo | 83000 |
| 400 | 3 | Jordan Lewis | 146000 |
| 400 | 4 | Ryan Pochedly | 187000 |
| 400 | 5 | JP Kelly | 506000 |
| 400 | 6 | Raymond Morgan | 173000 |
| 400 | 7 | Marcia Topp | 585500 |
| 400 | 8 | William Dawson | 108500 |
| 400 | 9 | Ramlal Basdeo | 246000 |
| | | | |
| 401 | 1 | David Stroj | 182000 |
| 401 | 2 | Jeremy Quehen | 104500 |
| 401 | 3 | David Inselberg | 201500 |
| 401 | 4 | Rodger Johnson | 122000 |
| 401 | 6 | Raymond Wu | 191000 |
| 401 | 7 | Kyle Bowker | 431000 |
| 401 | 8 | Ryan Austin | 68500 |
| 401 | 9 | Zsolt Vizsnyiczai | 437500 |
| | | | |
| 402 | 1 | Karen Sarkisyan | 89000 |
| 402 | 2 | Joe-Boy Rahme | 191000 |
| 402 | 3 | Melvin Dukes | 197500 |
| 402 | 4 | Jordan Mayers | 258500 |
| 402 | 5 | Jerry Wong | 367000 |
| 402 | 6 | Marc Wright | 635500 |
| 402 | 7 | Andrew Flaherty | 502000 |
| 402 | 8 | Kevin Pollak | 233000 |
| 402 | 9 | Felipe Quijano | 177000 |
| | | | |
| 403 | 1 | Justin Shih | 136500 |
| 403 | 2 | Sergii Baranov | 103500 |
| 403 | 3 | Lawrence Gibson | 215500 |
| 403 | 4 | Marco Bognanni | 349000 |
| 403 | 5 | Roy Duleba | 111500 |
| 403 | 6 | David Balkin | 366000 |
| 403 | 7 | Aaron Lim | 104000 |
| 403 | 8 | Eric Greenberg | 963000 |
| 403 | 9 | Christopher Day | 526000 |
| | | | |
| 404 | 1 | Tri Huynh | 268000 |
| 404 | 2 | Kyle Keranen | 802500 |
| 404 | 3 | Roberto Luongo | 92000 |
| 404 | 4 | Bryan Vanrijsbergen | 701000 |
| 404 | 5 | Mohammad Siddiqui | 334000 |
| 404 | 6 | Mikhail Lakhitov | 462000 |
| 404 | 7 | Jerrimie Pacheco | 190000 |
| 404 | 8 | Michael Stembera | 102000 |
| 404 | 9 | Michael Gable | 120000 |
| | | | |
| 405 | 1 | Jonathan Fountain | 504500 |
| 405 | 2 | John Phan | 655000 |
| 405 | 3 | Clinton Baker | 167500 |
| 405 | 4 | Vincent Maglio | 267000 |
| 405 | 5 | Scott Augustine | 133500 |
| 405 | 6 | Antonio Garcia | 207000 |
| 405 | 7 | Gerardo Lubas | 342000 |
| 405 | 8 | Sebastien Clot | 383500 |
| 405 | 9 | Reggie Lyons | 123500 |
| | | | |
| 406 | 1 | Daniel Hirleman | 210000 |
| 406 | 2 | Jerome Naye | 159000 |
| 406 | 3 | Barry Wiedemann | 405500 |
| 406 | 4 | Daniel Schacher | 335500 |
| 406 | 5 | Adel Jo | 299000 |
| 406 | 6 | Perry Green | 346500 |
| 406 | 7 | Peter Bosen | 197500 |
| 406 | 8 | Jason Terry | 128000 |
| 406 | 9 | Ronny Schenk | 172000 |
| | | | |
| 407 | 1 | Timothy Kilpatrick | 353000 |
| 407 | 2 | Micah Raskin | 550000 |
| 407 | 3 | Roland Israelashvili | 473500 |
| 407 | 4 | Logan Trindade | 180000 |
| 407 | 5 | Ercan Olgun | 622500 |
| 407 | 6 | Neil Blumenfield | 219500 |
| 407 | 7 | Philip Sternheimer | 177500 |
| 407 | 8 | Stephen Foutty | 510000 |
| 407 | 9 | Edouard Mignotbonnefous | 220000 |
| | | | |
| 408 | 1 | Jamie Robbins | 346500 |
| 408 | 3 | JC Tran | 195500 |
| 408 | 4 | Matthias Nilsson | 240000 |
| 408 | 5 | Joonhee Yea | 258500 |
| 408 | 6 | Kyle Cheong | 115000 |
| 408 | 7 | Guillaume Gignac | 329000 |
| 408 | 8 | Matthew Kurtz | 97500 |
| 408 | 9 | Rasmussen | 348000 |
| | | | |
| 409 | 1 | Dung Nguyen | 109000 |
| 409 | 2 | Darin Thompson | 76000 |
| 409 | 3 | Brian Zeid | 270000 |
| 409 | 4 | Lasell King | 277000 |
| 409 | 5 | Keith Block | 309500 |
| 409 | 6 | Robert Wisiak | 225000 |
| 409 | 7 | Erik Scheidt | 76000 |
| 409 | 8 | James Gloyd | 90000 |
| 409 | 9 | Todd Breyfogle | 242000 |
| | | | |
| 410 | 1 | Scott Daigle | 156000 |
| 410 | 2 | Simeon Naydenov | 225000 |
| 410 | 3 | Charlie Lacause | 330000 |
| 410 | 5 | Samantha Cohen | 172500 |
| 410 | 6 | Jean Moussa | 168000 |
| 410 | 7 | John Lavorato | 270000 |
| 410 | 8 | Amit Zulkowitz | 616500 |
| 410 | 9 | Stan Sinclair | 330000 |
| | | | |
| 411 | 1 | Benjamin Hamnett | 328500 |
| 411 | 2 | John Roh | 147000 |
| 411 | 3 | Mazin Khoury | 517000 |
| 411 | 4 | Maria Ho | 382000 |
| 411 | 5 | Derek Buonano | 253500 |
| 411 | 6 | Mark Teltscher | 20000 |
| 411 | 7 | Mark Cole | 381000 |
| 411 | 8 | Zachary Fritz | 328500 |
| 411 | 9 | Mihai Manole | 186500 |
| | | | |
| 412 | 1 | Adam Bennett | 239000 |
| 412 | 2 | Alejandro Vargas | 380000 |
| 412 | 3 | Zachary Cooke | 224000 |
| 412 | 4 | Marty Zabib | 461500 |
| 412 | 5 | Michael Kaufman | 478000 |
| 412 | 6 | Ankush Mandavia | 408000 |
| 412 | 7 | Vincent Wille | 334900 |
| 412 | 8 | Desislav Velikov | 235000 |
| 412 | 9 | Amnon Filippi | 525000 |
| | | | |
| 413 | 1 | David Kelley | 85500 |
| 413 | 2 | Patrick Renkers | 99500 |
| 413 | 3 | Anthony Rivera | 141000 |
| 413 | 4 | Taylor Paur | 427500 |
| 413 | 5 | Michael Moreno | 227500 |
| 413 | 6 | Sam Abueid | 195500 |
| 413 | 7 | Christina Lindley | 51500 |
| 413 | 8 | Benjamin Alcober | 789500 |
| 413 | 9 | Nicholas Abourisk | 517000 |
| | | | |
| 414 | 1 | Anders Rasmussen | 322000 |
| 414 | 2 | Roman Valerstein | 576500 |
| 414 | 3 | Jesse Sylvia | 565500 |
| 414 | 4 | Aaron Ruppert | 192500 |
| 414 | 5 | Stephan Ibs | 80500 |
| 414 | 6 | Michael Mcadam | 142500 |
| 414 | 7 | Nico Behling | 533500 |
| 414 | 8 | Steven Schlesinger | 245000 |
| 414 | 9 | Claudia Crawford | 398000 |
| | | | |
| 415 | 1 | William Hefflefinger | 208000 |
| 415 | 2 | Robert Peltekci | 293000 |
| 415 | 3 | Craigory Thames | 304500 |
| 415 | 4 | Carter Newhof | 366000 |
| 415 | 5 | Andrew Lichtenberger | 293300 |
| 415 | 6 | David ODB Baker | 291500 |
| 415 | 7 | Eugene Du Plessis | 137000 |
| 415 | 8 | Stephen Hung | 125500 |
| 415 | 9 | Teddy Sheringham | DNR |
| | | | |
| 416 | 1 | Jeffrey Gross | 382000 |
| 416 | 2 | John Owen | 381000 |
| 416 | 3 | Michael Song | 214000 |
| 416 | 4 | Amir Sonsino | 470000 |
| 416 | 5 | Joshua Rotenberg | 380000 |
| 416 | 6 | Armando Fernandez | 384000 |
| 416 | 7 | Justin Allen | 36500 |
| 416 | 8 | Kirill Rabtsov | 119500 |
| 416 | 9 | Marcel Luske | 602000 |
| | | | |
| 417 | 2 | Robert Perelman | 90000 |
| 417 | 3 | Filipp Khavin | 210000 |
| 417 | 4 | Joshua Gilliam | 265000 |
| 417 | 5 | Jarrett Nash | 65500 |
| 417 | 6 | Marc Ladouceur | 153500 |
| 417 | 7 | Denis Thibert | 58500 |
| 417 | 8 | Alan Wasserberger | 367500 |
| 417 | 9 | Scott Anderson | 407000 |
| | | | |
| 418 | 1 | Soon Hwang | 182000 |
| 418 | 2 | Jonathan Seelbach | 824000 |
| 418 | 3 | Ruslan Gazaev | 317500 |
| 418 | 4 | Gavin Smith | 323500 |
| 418 | 5 | Tom Tran | 542500 |
| 418 | 6 | Maxence Dupont | 343500 |
| 418 | 7 | David Peters | 561000 |
| 418 | 8 | Barakeh Fadi | 202000 |
| 418 | 9 | Derek Gregory | 212000 |
| | | | |
| 419 | 1 | Michael Lipman | 307000 |
| 419 | 2 | Ravi Raghavan | 288000 |
| 419 | 3 | Louis Asmo | 225000 |
| 419 | 4 | Robert Corcione | 446500 |
| 419 | 5 | Ruslan Dykshteyn | 105000 |
| 419 | 6 | Kevin Tiell | 31000 |
| 419 | 7 | Blake Barousse | 260500 |
| 419 | 8 | Jean Malherbe | 273000 |
| 419 | 9 | Josh Neufeld | 356500 |
| | | | |
| 420 | 1 | Marco Oliveira | 119000 |
| 420 | 2 | Chance Kornuth | 429000 |
| 420 | 3 | John Juanda | 357500 |
| 420 | 4 | Julien Chamoun | 163500 |
| 420 | 5 | Roman Duiunov | 63000 |
| 420 | 6 | Nicholas Cushman | 520500 |
| 420 | 7 | Chris Kwon | 133000 |
| 420 | 8 | Michael Weiss | 80500 |
| 420 | 9 | Michael Hack | 533500 |
| | | | |
| 421 | 1 | Vitalii Minakov | 159500 |
| 421 | 2 | Andrew Powderly | 415500 |
| 421 | 3 | Joseph Teanotoga | 54000 |
| 421 | 4 | Josep Galindo | 110000 |
| 421 | 5 | Nazim Guillaud | 271000 |
| 421 | 6 | Wilfried Haerig | 444500 |
| 421 | 7 | Kenneth Dobbs | 93500 |
| 421 | 8 | Joseph Pergola | 124000 |
| 421 | 9 | David Randall | 502000 |
| | | | |
| 422 | 1 | Shahriar Assareh | 417000 |
| 422 | 2 | Scott Abrams | 235000 |
| 422 | 3 | Kristijonas Andrulis | 177000 |
| 422 | 4 | Antonio Ribeiro | 314000 |
| 422 | 5 | Ronnie Bardah | 244500 |
| 422 | 6 | Barry Rives | 232500 |
| 422 | 7 | Eric Buchman | 478000 |
| 422 | 8 | Oscar Kemps | 445500 |
| 422 | 9 | Dennis Montogomery | 465500 |
| | | | |
| 423 | 1 | John Duley | 412500 |
| 423 | 2 | Dana Kellstrom | 59000 |
| 423 | 3 | Gerald Schlichting | 101000 |
| 423 | 4 | Gregory Milliron | 478000 |
| 423 | 5 | A Ram Hong | 461500 |
| 423 | 6 | Konstantin Streletskiy | 163500 |
| 423 | 7 | Robert Layne | 542000 |
| 423 | 8 | Christian Harder | 176500 |
| 423 | 9 | Steve Mccluskey | 77000 |
| | | | |
| 424 | 1 | Justin Young | 217000 |
| 424 | 2 | Evan Jarvis | 157000 |
| 424 | 3 | Yuji Masaki | 140000 |
| 424 | 4 | Daniel Hicks | 162500 |
| 424 | 5 | Bartolome Gomilaromero | 125000 |
| 424 | 6 | Trevor Vanderveen | 223500 |
| 424 | 7 | Brian Meinders | 105500 |
| 424 | 8 | Keith Morgan | 59000 |
| 424 | 9 | Antonio Esfandiari | 485000 |
| | | | |
| 425 | 1 | David Icke | 80000 |
| 425 | 2 | Dave Orvis | 64500 |
| 425 | 3 | Alexis Bouchiouane | 96500 |
| 425 | 4 | Ryan Daut | 48000 |
| 425 | 6 | Mark Demirdjian | 685000 |
| 425 | 7 | Casey Yontz | 209500 |
| 425 | 8 | Robert Brown | 445500 |
| 425 | 9 | Erik Hellman | 746000 |
| | | | |
| 426 | 1 | Derek Chisholm | 429500 |
| 426 | 2 | Daniel Rudd | 834500 |
| 426 | 3 | John Oshea | 514500 |
| 426 | 4 | Brian Hamilton | 112000 |
| 426 | 5 | Ryan Batchelor | 241000 |
| 426 | 6 | Edmund Chan | 73500 |
| 426 | 7 | Peter Kamaras | 36500 |
| 426 | 8 | Ricky Markowitz | 281000 |
| 426 | 9 | Will Souther | 397500 |
| | | | |
| 427 | 1 | Evan Marshall | 174500 |
| 427 | 2 | Frederick Vogt | 213500 |
| 427 | 3 | Cristiano Guerra | 124000 |
| 427 | 4 | Daniel Ospina | 226500 |
| 427 | 5 | Paul Isom | 283000 |
| 427 | 6 | Jason Potter | 184000 |
| 427 | 7 | David Dalesandro | 1100000 |
| 427 | 8 | Scott Hall | 144000 |
| 427 | 9 | Fabio Sousa | 258000 |
| | | | |
| 428 | 1 | [Removed:113] | 171000 |
| 428 | 2 | David Funkhouser | 602000 |
| 428 | 3 | Christine Brewer | 123000 |
| 428 | 4 | Joseph Marchal | 64000 |
| 428 | 5 | Lynne Beaumont | 83500 |
| 428 | 6 | Shaun Deeb | 598000 |
| 428 | 7 | Nathan Tuthill | 42000 |
| 428 | 8 | Luke Chung | 47500 |
| 428 | 9 | Ian Feller | 126000 |
| | | | |
| 429 | 1 | Kosei Ichinose | 281000 |
| 429 | 2 | Jamie Sill | 171500 |
| 429 | 3 | Joseph Conroy | 276000 |
| 429 | 4 | Shawn Quillin | 216000 |
| 429 | 5 | Fabien Perrot | 75000 |
| 429 | 6 | Jeffery Mcalister | 35500 |
| 429 | 7 | Robert Salaburu | 646500 |
| 429 | 8 | Jeff Hakim | 61000 |
| 429 | 9 | Jared Hamby | 246500 |
| | | | |
| 430 | 1 | Lasse Soerensen | 646000 |
| 430 | 2 | Cylus Watson | 775000 |
| 430 | 3 | Christopher Kolla | 245500 |
| 430 | 4 | Nicholas Divella | 377000 |
| 430 | 5 | Jed Dickerson | 33500 |
| 430 | 6 | Neil Beckerman | 338500 |
| 430 | 7 | Bernard Lee | 133500 |
| 430 | 8 | Jermy Renz | 161000 |
| 430 | 9 | David Corsello | 273500 |
| | | | |
| 431 | 1 | Mike (Musa) Mustafa | 393500 |
| 431 | 2 | Nicholas Carrillo | 225000 |
| 431 | 3 | Tom Koral | 125500 |
| 431 | 4 | Paul Volpe | 820000 |
| 431 | 5 | Salman Jaddi | 240000 |
| 431 | 6 | Steve Merrifield | 280000 |
| 431 | 7 | John Wrona | 98500 |
| 431 | 8 | Joseph Goott | 185500 |
| 431 | 9 | Eddie Blumenthal | 367000 |
| | | | |
| 432 | 1 | Jordan Knackstedt | 78000 |
| 432 | 2 | Mikhail Rudoy | 102500 |
| 432 | 3 | Bruno Lopes | 197500 |
| 432 | 4 | Isaac Baron | 305000 |
| 432 | 5 | Antoine Guyetant | 301500 |
| 432 | 6 | Ezra Abu Gazal | 120000 |
| 432 | 7 | Xiu Deng | 196500 |
| 432 | 8 | Liv Boeree | 207500 |
| 432 | 9 | Robert Bresner | 252000 |
| | | | |
| 433 | 1 | Valentin Messina | 219500 |
| 433 | 2 | Marc Bariller | 275000 |
| 433 | 3 | Andrew Lee | 653000 |
| 433 | 4 | Niels van Alphen | 635500 |
| 433 | 5 | Rodrick Kennedy | 33500 |
| 433 | 6 | Yuri Ishida | 214000 |
| 433 | 7 | Kyle Knecht | 166500 |
| 433 | 8 | Curtis Householder | 118000 |
| 433 | 9 | Fabrice Bachellez | 273000 |
| | | | |
| 434 | 1 | Darren Sinnaeve | 125000 |
| 434 | 2 | Peter Murphy | 128500 |
| 434 | 3 | Aadam Daya | 104500 |
| 434 | 4 | Julio de la Rosa | 77600 |
| 434 | 5 | Salvatore Bonavena | 197000 |
| 434 | 6 | David Earnest | 386500 |
| 434 | 7 | Matthew Kay | 131000 |
| 434 | 8 | Mark Clement | 283500 |
| 434 | 9 | Maurice Hawkins | 419000 |
| | | | |
| 435 | 1 | Scott Blackman | 315000 |
| 435 | 2 | Patrick Khayat | 106000 |
| 435 | 3 | Louis Werman | 147000 |
| 435 | 4 | Johnny Chan | 374500 |
| 435 | 5 | Vivek Rajkumar | 678000 |
| 435 | 6 | Erick Lindgren | 222000 |
| 435 | 7 | Anthony Scherer | 249500 |
| 435 | 8 | Remy Cucak | 185000 |
| 435 | 9 | Sean Giesbrecht | 148000 |
| | | | |
| 436 | 1 | Alexander Berdichevsky | 47500 |
| 436 | 2 | Andres Ibarguen | 123500 |
| 436 | 3 | Brent Hanks | 227000 |
| 436 | 4 | Matthew Wolf | 146500 |
| 436 | 6 | Huck Seed | 137500 |
| 436 | 7 | Thiago Nishijima | 84000 |
| 436 | 8 | Sorel Mizzi | 738000 |
| 436 | 9 | Peter Malkoun | 62500 |
| | | | |
| 438 | 1 | Timothy Chang | 257000 |
| 438 | 2 | Jason Mercier | 87500 |
| 438 | 3 | Daniel Arfin | 342500 |
| 438 | 4 | Mohammed Jaafar | 185500 |
| 438 | 5 | Svyatoslav Belyaev | 450000 |
| 438 | 6 | Patrick Halter | 366000 |
| 438 | 7 | Joshua Weizer | 230000 |
| 438 | 8 | Robert Lay | 402500 |
| 438 | 9 | Webber Kang | 381500 |
| | | | |
| 439 | 1 | Jesse Martin | 187500 |
| 439 | 2 | Gjorgji Chuchuk | 146500 |
| 439 | 3 | Richard Pyne | 229000 |
| 439 | 4 | Chris Stull | 128000 |
| 439 | 5 | Shawn Buchanan | 205500 |
| 439 | 6 | David Debue | 498500 |
| 439 | 7 | Ruggeri Marco | 417000 |
| 439 | 8 | Ryan Fair | 389000 |
| 439 | 9 | Duykhanh Le | 638500 |
| | | | |
| 440 | 1 | Stefano Fiore | 85000 |
| 440 | 2 | Justin Oliver | 87000 |
| 440 | 3 | Dmitry Kataev | 151000 |
| 440 | 4 | Dan Martin | 337000 |
| 440 | 5 | Luke Vrabel | 294000 |
| 440 | 6 | Lee Childs | 570000 |
| 440 | 7 | David Warady | 457000 |
| 440 | 8 | Noeung Troeung | 193000 |
| 440 | 9 | Thaddeus Wolff | 177000 |
| | | | |
| 441 | 1 | Jordan Batt | 170500 |
| 441 | 2 | Paul Soukthavone | 178500 |
| 441 | 3 | Alessio Isaia | 497000 |
| 441 | 4 | Zachary Korik | 473000 |
| 441 | 5 | Dylan Shwartz | 169000 |
| 441 | 6 | Alan Curl | 206000 |
| 441 | 7 | Kent Goulding | 113000 |
| 441 | 8 | Ross Myers | 184000 |
| 441 | 9 | Valdemar Kwaysser | 171000 |
Event 61: $10,000 No-Limit Hold'em Main Event
Kuupäev 4 algas