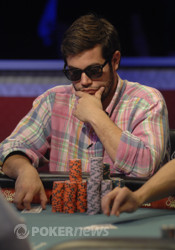 Robert Salaburu is a Texas native and a professional poker player. He's been playing poker for six years, and this is by far his biggest poker achievement to date. Salaburu got interested in poker during high school, where he'd play home games in his buddy's garage. From there, he transferred to online play and claims he got "hooked."
Prior to this Main Event run, Salaburu had $42,411 in live tournament earnings. His largest score was a win back at the North American Poker Tour Mohegan Sun for $17,261 in a $1,000 No-Limit Hold'em side event.
Since reaching the Octo-Nine, Salaburu has cashed twice on the circuit. He placed in the money in The River Poker Series, and then he took eighth place in the Daytona Beach Heartland Poker Tour. Those scores netted him $5,381 and $14,796, respectively.
Salaburu held the chip lead at points during the Main Event, but it was when there were about 100 players left that he really felt he had a shot. Here's what he had to say when asked about when he thought he had a legitimate chance at making the Octo-Nine:
"Probably with about 100 players left. I continued to hold the chip lead for about two days. Whenever I get a chip lead in a tournament, I am pretty hyper-aggressive. I tend to just go for it and try to maintain. When you have chips late in a tournament like that and you see them breaking to ten tables, then nine tables, then eight tables, then fifty people then 25. Right around there, I knew I had a legitimate shot of getting there and making a good run at it."
Salaburu will start the final table with 15.155 million in chips and is seventh overall. He does have direct position on the chip leader, Jesse Sylvia, which could work to his advantage if he has some good timing.