Event Info
| | |
| --- | --- |
| Auhinnafond | €544,800 |
| Players | 227 |
Taseme info
| | |
| --- | --- |
| Tase | 25 |
| Blindid | 12,000 / 24,000 |
| Ante | 4,000 |
Both Yannick Bonnet and Imed Ben Mahmoud decided to take it easy with two pair just now. Bonnet raised to 32,000 from the button and Mahmoud defended his big blind.
The flop came down
, and Mahmoud check-called 32,000. On the turn the
hit, and both players checked.
The river was the
, and Mahmoud check-called 40,000. Bonnet showed
, but that was no good against Mahmoud's
.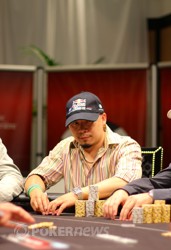 We are down to just three players after Senh Ung has just been eliminated. From the small blind Ung raised to 33,000, and Yannick Bonnet moved all in. Ung called right away creating a pot worth right around 400,000 chips.
Showdown:
Yannick Bonnet:

Senh Ung:
The board ran out
, and Ung was done. After shaking hands with his opponents Ung left the stage, and just three players remain now with a chance to win that gold bracelet!
Even though Senh Ung took down a pot after re-shoving, it's still mostly Imed Ben Mahmoud who's winning pots. All four players seem very cautious with the WSOPE bracelet within reach, but Mahmoud is the most active so far.
Just now Matan Krakow raised to 32,000 from the button, and Mahmoud picked up the pot with a three-bet to 105,000 from the small blind.
Imed Ben Mahmoud just raised to 34,000 from the button after which Senh Ung moved all in. After Yannick Bonnet had folded his big blind it was back on Mahmoud, who went into the tank.
"You show if I fold?" Mahmoud asked his opponent who remained silent. Eventually Mahmoud folded and Ung picked up some chips.
Tase:

23
Blindid:

8,000/16,000
Ante:

2,000
The players are on a 20-minute break.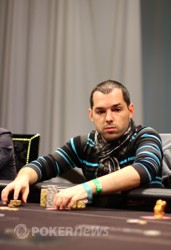 Action folded to Senh Ung in the small blind and he raised to 27,000. In the big blind, Yannick Bonnet reraised all in for 229,000. Ung called with the
. When he saw that Bonnet held the
, Ung knew he was in a dominating position to make the final table three handed.
Not all things work out in poker, though, and Bonnet spiked an eight on the flop to take the lead. The entire board ran out
and Bonnet doubled through.
After Yannick Bonnet made it 24,000 to go, Matan Krakow reraised to 52,000. Bonnet came back over the top with a reraise to 104,000, but Krakow moved all in. Bonnet gave it up and Krakow won the pot.